Overview
DudaMobile cannot automatically convert online stores, or any websites that contain shopping carts, online checkouts, or other eCommerce features that collect customer payment information online.
If you attempt to convert an eCommerce website, you should know that without an SSL in place, the transaction would not be secure. If you are attempting to collect credit card information, this may violate PCI compliance rules.
Duda does not offer SSL certificates at this time.
Please note that DudaMobile is not designed to work with eCommerce or eCommerce sites. If you'd like to build a site in our platform and use eCommerce, we highly recommend replacing your desktop site with an eCommerce Duda responsive site and using it as both a mobile and desktop site instead of following the below workarounds.
Link to an external store/checkout
You can add the appearance of eCommerce functionality by linking to an external checkout. You can link to any eCommerce checkout, as long as the payment transaction happens on a secure external server.
For example, you could have an item listed on your mobile website and have a checkout button that links to a secure 3rd party payment processor. This is actually how our PayPal button feature works.
Add PayPal checkout
The easiest way to link to an eCommerce checkout is with our PayPal button feature.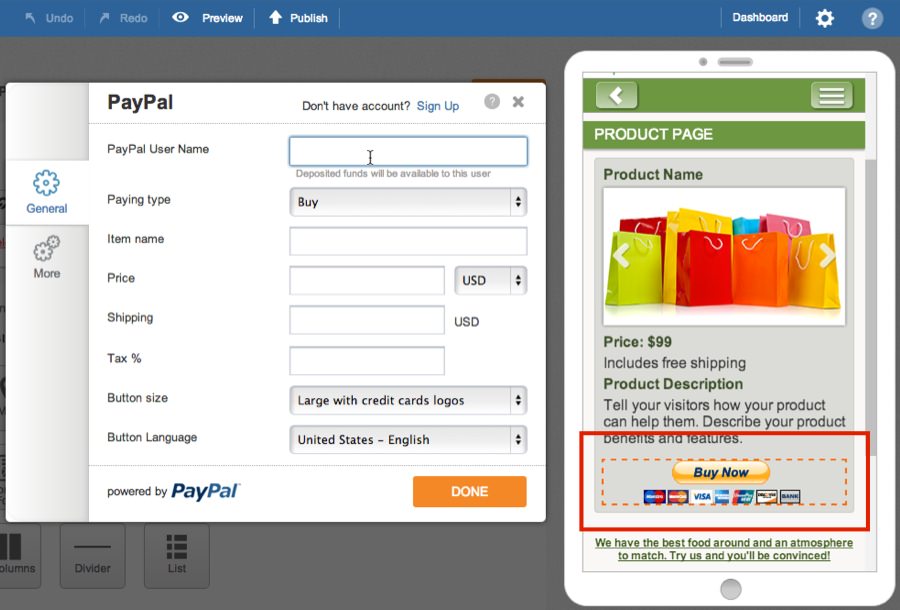 Click here for more information on adding the PayPal button.