Overview
The Contact Form feature allows visitors to contact you or inquire about a service. It will send an e-mail directly to any e-mail you wish, although generally you'll set it to send to your own e-mail address.
Add a Contact Form
From the pages section of the DudaMobile editor, first choose the page on which you'd like your contact form to display.

Go to the Content section and select the business tab.


Drag the Contact Form feature into the editing frame.

Once you've placed the feature, you can configure its fields as you wish.
Setup
The contact form allows you to provide visitors with a variety of input fields, specifically text, dropdown, radio buttons, checkboxes, date, time, email, phone number, and numbers.
You can customize the email recipient, subject, thank you and error message in the email settings tab at the top of the Contact Form edit panel. You'll also have the option there to redirect users to a different page on your site after they've filled out the form.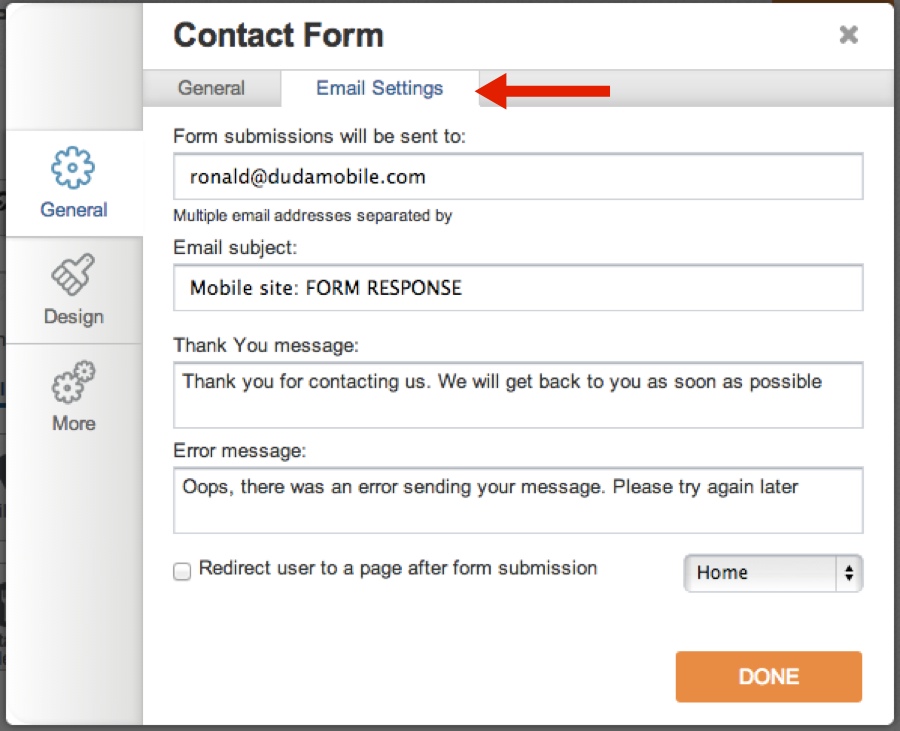 Design
Each Contact Form element has the following display options:
General

General: Change the form's title, email, and submit button text as well as add additional input fields

Email Settings: Change the form's thank you, error message and/or to what page the form sends the visitor after it is submitted.

Design

Color: Change the background color or image, text color, and border of your selected tab.

Shape: Change the button's shape and toggle whether it has a shadow.

Text Style: Change the text style of your selected tab.

More

Spacing: Set the padding and margin of the element.

CSS: Change the element's CSS.

HTML: Change the element's HTML.
Contact form troubleshooting guide
If you're not able to receive any form submissions that are being sent using a DudaMobile contact form, most likely it's because our mail is being filtered as spam on your email server's end.
IMPORTANT: This checklist only applies to contact forms built using Duda's contact form element.
Checklist
Check the form responses to ensure the contact form is working. You can click the contact form >>> click form responses to download it.

Check to see if the email is valid. If you're entering multiple emails, remember to use a comma between emails (no spaces) to separate them

Check your spam folder in your site

Check your email filter and blacklist settings to ensure that they're not being blocked

Add

form-processor@duda.co

in your email white-list

Create a new page and insert your contact form there to see if it works

Turn off any custom scripts in your site in the site settings
Still not working?
If your contact form still doesn't work after running through that troubleshooting checklist, contact your email provider to look into why our contact form email submissions are not being received. In addition, make sure to white list the IP 167.89.22.215 in your email provider's settings.
If it's working on another page in your mobile site but not the page it's supposed to work on, that usually means there's a custom script interfering with your contact form working. Either reset the page or check your page for any custom scripts that might be causing this issue.