Overview
The Multi Location feature displays a list and map of all of your business locations. Visitors can tap a button to find the location closest to them using their device's GPS.
Video
Add Multi Location
1. From the pages section of the DudaMobile editor, first, choose the page you'd like your locations to display on.
2. Go to the Content section and select the business tab.
3. Drag the Multi Location feature into the editing frame.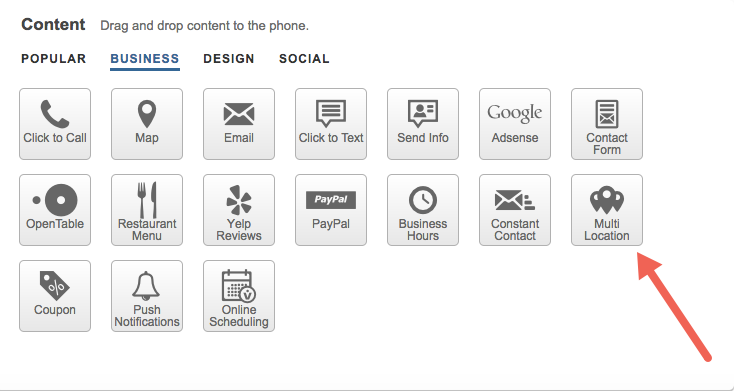 4. Once you've placed the feature, you'll need to designate a set of locations to guide your visitors to.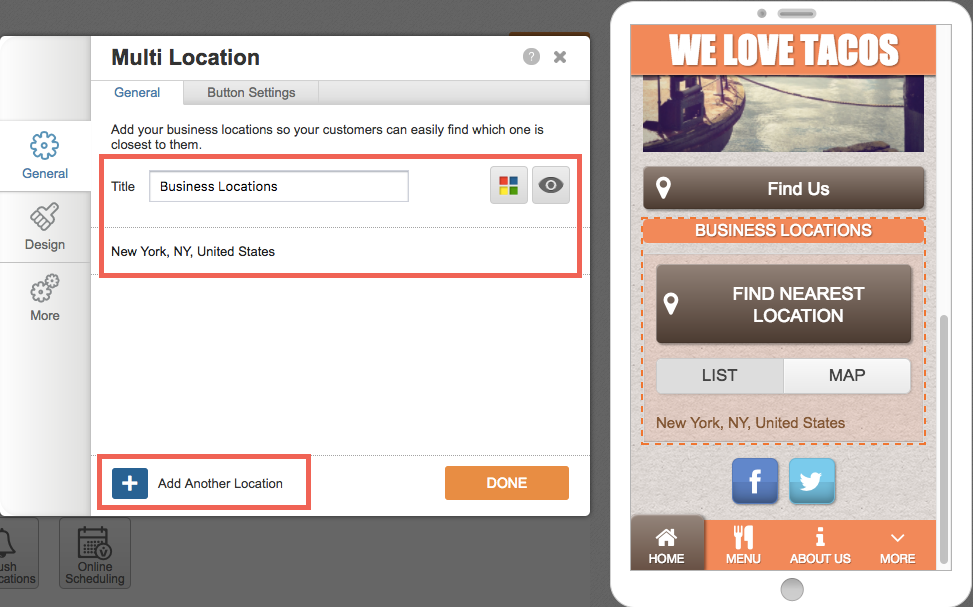 Manage locations
To remove locations from your Multi Location element, use the delete button when hovering over a location.

To add a location, click the Add Another Location button.

Edit individual locations by clicking the edit button when hovering over a location.

Add a click to call button by checking the Show click to call button box and provide additional information about that location in the Additional Information box.

Create a link to display on that location's entry to guide your visitors to a specific page.
Design
Each Multi Location element has the following display options:
General

General: Manage locations and change the title text, color, and visibility.

Button Settings: Change the find nearest location button label text and visibility.

Design

Colors: Change the element's background color, image, and border.

Effects: Toggle shadow and rounded corners for the element.

Text Style: Change the element's text style.

Settings

Spacing: Set the margin and padding of the element.

Alignment: Set the alignment of the element (left, right, or center).

CSS: Change the element's CSS

HTML: Change the element's HTML