Overview
Choose the meta description and meta keywords for the entire mobile website.
Getting to the SEO tab
In the DudaMobile site editor, click settings gear

Click Site Settings

Click SEO
Defaults
By default, the desktop site's SEO values for each page are assigned to the mobile page as well, though these do not show up in the editor. Do not change these values unless you wish to override the desktop site's title, description, or keywords.
Options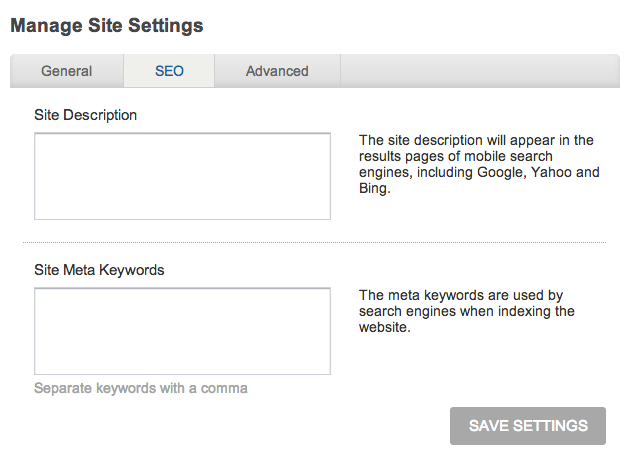 | | |
| --- | --- |
| Site Description | Change the site's description. This will appear in the results pages of mobile search engines. |
| Site Meta Keywords | Change the site's meta keywords. These are used by search engines when indexing the website. |
I got a bad google page speed score, what can I do?
If you ran your site through the Google page speed test and got dissatisfying results, here's some things you can do to boost it.
Optimize your images. You can replace all the images in your site with manually optimized images to reduce the load time of your site.

Break your pages into smaller pieces so that each page is faster to load

Use less images and flashy widgets if possible

For reducing CSS or render-blocking Javascript, that's unfortunately needed for the site to function. Our developers are always at work though to compress it and make each site faster.
Troubleshooting and FAQ's
My SEO settings are not saving
If your SEO settings are not saving, you can try turning off auto sync so that your SEO settings don't get overridden.
I'm seeing different SEO results in my desktop site
Any changes you make to your mobile site does not affect your desktop site's settings. To check your SEO settings, try using a mobile browser to search for your site instead.