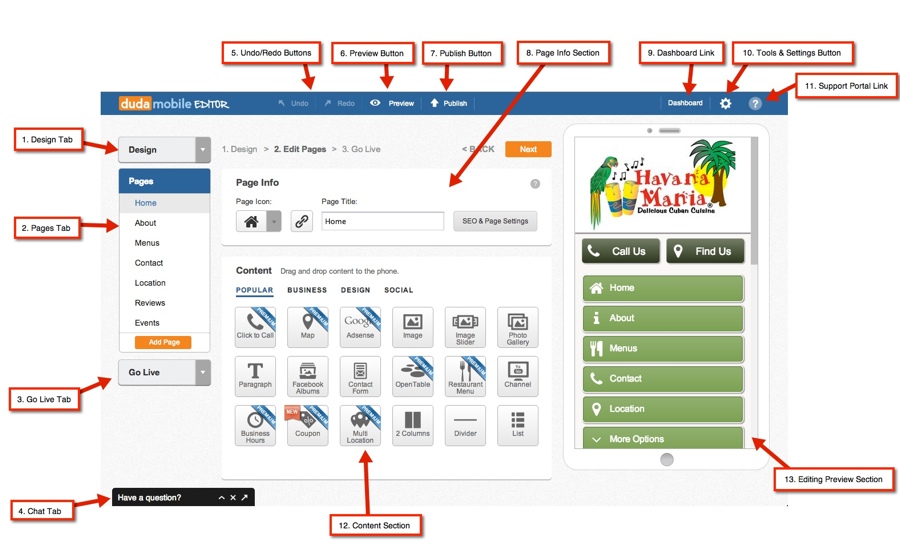 1. Design Tab
Use the design tab to set the design of your site. It includes the Layout tab, which sets your navigation button style, the Style tab, which sets your site's colors, background image, and text style, and the Header tab, which allows you to modify your header's look and colors.
2. Pages Tab
Use the Pages tab to quickly access and modify each page of your site or create new pages.
3. Go Live Tab
Use the Go Live tab to publish, republish, unpublish, redirect, or rollback your site.
4. Chat Tab
Use the Chat tab to get chat support for brief questions about the editor.
5. Undo/Redo Buttons
Use the Undo/Redo buttons to undo or redo recent small changes.
6. Preview Button
Use the preview button to see a preview of how your site will display on a phone.
7. Publish Button
Publish your site to make your changes live so that visitors to your site can see them.
8. Page Info Section
Set each page's icon, the link it goes to, its name, or its settings.
9. Dashboard Link
Go to your DudaMobile Dashboard, where you can find or create other sites in your account.
10. Tools & Settings Button
Change your site's general settings (like cache time or home screen icons),advanced settings (like scripts or iframes), make backups, or modify your site's CSS & HTML.
12. Content Section
Choose and add new elements to your site by dragging them into the editing preview section. You can find a list of all of the options in this section under the Business Features tab in the How-To section.
13. Editing Preview Section
View your mobile site and edit it from this section by clicking elements to edit, move, or delete them.