Overview
Control the Search Engine Optimization options for the page. Choose which title, description, and keywords are assigned to the page.
Getting to the SEO tab
In the DudaMobile site editor, Click Pages
Select a page
Click SEO & Page Settings

Click the SEO tab
You can now edit the SEO settings

Defaults
By default, the desktop site's SEO values for each page are assigned to the mobile page as well, though these do not show up in the editor. Do not change these values unless you wish to override the desktop site's title, description, or keywords.
Options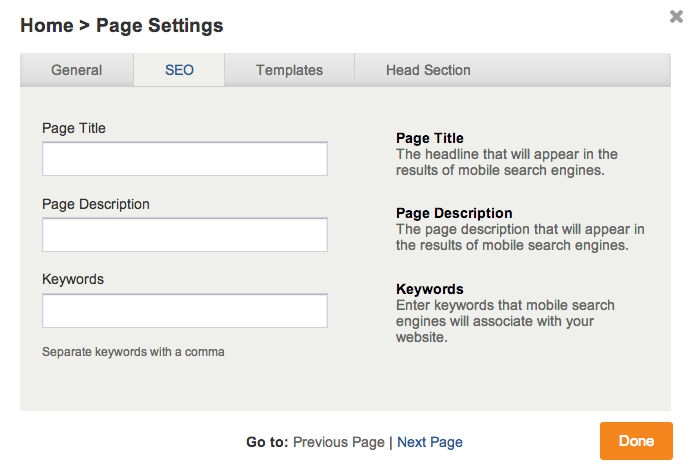 | | |
| --- | --- |
| Page Title | Change the headline that will appear in the results of mobile search engines. |
| Page Description | Change the page description that will appear in the results of mobile search engines. |
| Keywords | Change the keywords that mobile search engines will associate with your website. |
FAQ's
I received a bad SEO report, what can I do?
If you received a bad SEO report, simply read the findings of the report carefully and make the necessary edits in your mobile site. This may require that you optimize your image size and go through your site to make sure your site is SEO optimized.
Editing the SEO settings in this article is only one step towards getting a better SEO score. SEO is a very broad topic, so it might be worth hiring an SEO professional who may help you get a better score on your site.
Can you make my SEO better?
We don't have anyone who can make your SEO better for you, but we do provide you the tools for doing so (as outlined in this tutorial).
Alternatively, you can consider hiring a pro to do the SEO work for your site. You can also check our basic introduction to SEO article for more information.